Courtney Ornelas
Teacher: Threes Class
After a lifetime of other professions, Teacher Courtney found early education. South Seattle College's
co-op preschool made a life-changing impact on her family. Because of this experience, she is passionate
about educating children and caregivers in positive parenting methods. Teacher Courtney wants to
educate in this environment because she believes strongly in the impact positive caregiving can have on
not only children, but families and communities.
Tapping into a love of science and experimentation, alongside the utilization of her bachelor's degree in
English Literature, Teacher Courtney loves to immerse the classroom in a myriad of subjects. As an
instructor, she loves using her creativity to set the tone for meaningful lessons. In her free time Teacher Courtney enjoys spending time with family, improving her Spanish language skills, swimming, exploring all the beautiful forests of Washington and exploring all of the beautiful coffee shops and bakeries of Washington.
Tami Aidlin
Teacher: Twos & Pre-K Classes
I have been involved with coop preschool since 2007; both of my children attended Lincoln Park Coop Preschool. I have enjoyed being in the classroom with enthusiastic learners and amazing teachers. Coop was a great way for me to find my way as a teacher. As an empathetic, fun-loving parent, I bring a nurturing energy to the classroom. I am committed to provide wonderful learning experiences for my students. The part of my job that I enjoy the most is connecting with my students.
Outside the classroom, I'm currently working towards my degree in early childhood education. In my free time, I enjoy cooking, gardening, photography, crafting, camping, and being a Girl Scout Troop Leader! Most of all, I love spending time with my family.
Helen Lim
Parent Education Instructor: Infants
Originally from Austin, TX, Teacher Helen moved to Seattle in 2016 after having earned a Masters degree in Public Health and working in the field in Atlanta. Helen has always had a love for biology, life sciences and child development. She is new to SSCCP as a Parent Educator and is currently navigating parenthood and cooperative preschool with a 3 year old and 1 year old. She absolutely loves birth to three, that magical time when children start to discover the world, then themselves, a time when there is so much change for the whole family. Being someone who moved to Seattle without any family nearby, Helen especially values the support and community gained through co-op preschool. When she isn't in class or helping her students, she is most likely sitting down with her first glass of water for the day after having just picked up every last toy in the living room.
Jen Giomi
Parent Education Instructor: Pre-K Class
Jen's life is a testament to her lifelong fascination with people. As a young adult, she traveled extensively motivated by the desire to see the world, know who else lives here, and appreciate the similarities as well as the differences. With her own children (4) she witnesses firsthand the joy and complexity of growing up. She felt fortunate to learn of Positive Discipline early on as a parent and its ability to change the way people interact with others, beginning with the most intimate and powerful relationship between a parent/caregiver and child. Driven by this understanding Jen started working in parenting education, sharing the information and tools she had learned with other families. She also guides the Parent Education at South Seattle College in the role of Faculty Coordinator. And she has expanded her reach, serving as a facilitator with Sound Discipline for the past several years.

In those rare instances when Jen is afforded some down time, she enjoys quality time with her friends and family. Together, she enjoys walking or running, going to book club, and going dancing and hosting parties.
Dawn Franklin
Parent Education Instructor: Threes Class
Dawn Franklin has been an Instructor for Co-op since 2019. She grew up in the Detroit area, moving to Seattle in 1995 to pursue a degree in Zoology at the University of Washington. She continued on at UW, earning a Master's Degree in Elementary Education and spent the next seven years teaching 5th grade in the Renton School District, before making the decision to stay home with her own children.

As a new (overwhelmed and lonely) stay-at-home-parent of a 2 year-old and a 4 month-old, Dawn enrolled in SSC's Co-op program at the recommendation of a neighbor. She soon found herself surrounded by passionate preschool teachers, knowledgeable parent educators, and a welcoming community. Dawn spent the next nine years leading each of her four children through a wonderfully rich co-op preschool experience, in which she became deeply invested, taking on leadership positions such as board president and PAC Equity Committee member, and eventually, becoming a Parent Education Instructor herself.

In addition to Parent Education, and spending time her husband and four children, Dawn is also an ACE certified group fitness instructor and has taught a variety of formats including dance fitness, cardio kickboxing, circuit training, HIIT, and barre classes.
Kylene Ushimaru
Parent Education Instructor: Twos & Toddler Classes
Kylene began teaching 4 and 5-year-olds in 1986 at the Arbor Heights Co-op Preschool (now White Center Co-op Preschool) and has loved it ever since. She studied Early Childhood education through Central Washington University, and continues to enjoy learning through professional seminars and conferences throughout the school year. In addition to teaching a 4 and 5-year old's class at the White Center Co-op Preschool, Kylene supports our program as a Parent Education Instructor, which she has done for over 20 years. She is fondly revered by many as the fairy godmother of West Seattle.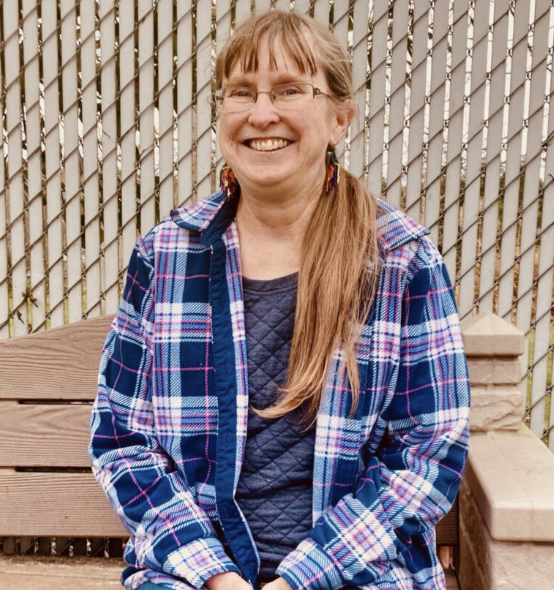 Linda Plankinton
Teacher: Infants & Toddlers Classes
Teacher Linda has worked in the career of Childcare for over 20 years.  She had the pleasure to enroll her daughter in coop preschool at just 5 months old, in the Infant class at SSC co-op preschool and continued all the way through to the 4's class. Co-op gave her the support she needed and gave her child very important social/emotional skills. After her daughter started elementary school, she had the opportunity to teach in the AH 2s class. She was so happy to be back at Co-op!
Linda loves watching the children grow and change over the year and the parents developing lifelong relationships with each other. She believes the child's job is to play, and as a teacher, she enjoys setting up the classroom to help encourage this. Whether they are exploring ramps made from gutters, a home center, relaxing at the play dough or sensory tables she loves to get down on their level and play alongside them. Linda also likes seeing them approach the art center and experience the process of art. They can explore paint, water colors, or other media in an open-ended way, and the end product is unique for each child.
She also enjoys working with the parents who she considers my co-teachers. Together we work at our play stations, using positive discipline techniques to help teach the children how to interact with one another.      
Away from work, Linda loves spending time with her family and camping with our two cats. She also enjoys gardening, quilting, and making fairy houses out of natural materials.